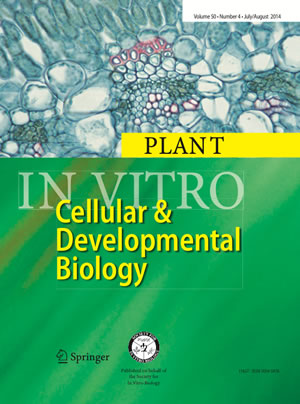 In Vitro Cellular and Developmental Biology – Plant (ISSN 1054-5476),
or In Vitro – Plant, publishes timely, peer-reviewed papers for the growing body of researchers involved in cellular, molecular or developmental biology using in vitro grown or maintained organs, tissues, or cells derived from plants. The journal provides original research devoted to the advancement and dissemination of basic and applied knowledge and is indispensable for agricultural biotechnology researchers, industrial scientists, university scientists, and graduate and post-graduate students.
Devoted to plant cell and tissue culture and biotechnology research, this bi-monthly publication incorporates two special issues of the official journal (formerly Plant Tissue Culture and Biotechnology) for the International Association for Plant Biotechnology (IAPB). Topics covered include: biotechnology/genetic transformation, developmental biology/morphogenesis, micropropagation, functional genomics, molecular farming, metabolic engineering, plant physiology, cell biology, somatic cell genetics, and secondary metabolism.
Readers include biomedical and industrial scientists, researchers, university professors, and post-graduate students – an excellent market for cell and tissue culture media, laboratory equipment and supplies, agricultural products, scientific books and journals, and more.  For information on advertising, please click here.
Mini-reviews, invited reviews, symposium and workshop proceedings from the annual SIVB Congresses, and book reviews are also included.
Open Access Available through Open Choice

Open Choice
In addition to the traditional publication process, Springer now provides an alternative publishing option: Springer Open Choice (Springer's open access model). A Springer Open Choice article receives all the benefits of a regular article, but in addition is made freely available through Springer's online platform SpringerLink. To publish via Springer Open Choice upon acceptance of your manuscript, please click on the link below to complete the relevant order form and provide the required payment information. Payment must be received in full before free access publication. For more information on open choice, please click here.

Tweet about the In Vitro journals.

In Vitro Plant – #IVPLSIVB


In Vitro – Plant is published bi-monthly with meeting abstract supplement in the spring.