The Local Organizing Committee of the 2023 In Vitro Biology Meeting has made special efforts to arrange for some very exciting events during the 2023 In Vitro Biology Meeting for the education and enjoyment of the attendees.  Learn about these special events below and purchase your tickets as soon as possible when you arrive at the meeting. Don't wait though. Space is limited and you don't want to miss out on these special experiences.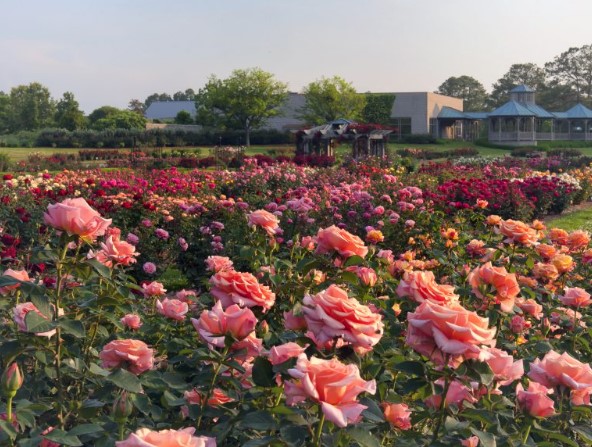 A Blooming Good Time at Norfolk Botanical Gardens
Join us on Tuesday evening, June 13, from 5:45 pm – 9:15 pm as we have an exclusive dinner event at the Norfolk Botanical Gardens (NBG). Experience private access to over 60 different gardens including their Japanese Garden featuring Asian plants, Baker Perennial Garden bursting with color, Tropical Display House full of exotic plants, Virginia Native Plant Garden, Kitchen Garden designed in the traditional French potager style, and Bristow Butterfly Garden alive with both flowers and butterflies in summer. Upon arrival, you will have an hour to enjoy a guided tram tour of the gardens where you will learn about the collections and have the chance to step off the tram to wander their stunning trees and blooming flowers at your leisure. Dinner will follow in the Garden Auditorium and during dessert, Dr. Lisa Wallace, Director of Science at NBG and botany professor at Old Dominion University specializing in native orchids, will provide a presentation on orchid micropropagation in the NBG collection. The cost of this private experience is only $125.00 and includes round-trip transportation, admission to the gardens after hours, access to the gift shop, dinner, and the presentation by Dr. Wallace. A limited number of discounted tickets will be made available to student registrants at the rate of $55.00. Space is extremely limited, so check at the registration desk upon your arrival for availability.
Wednesday Afternoon Scientific Tour: From Electric Fields to the Stars at ODU
SIVB is very excited to offer a one-of-a kind tour on Wednesday, June 14 from 12:45 pm – 4:30 pm of the labs at the Frank Reidy Research Center for Bioelectrics, ODU Center for Bioelectronics, and the Michael and Kimthanh Lê Digital Theater and Planetarium at Old Dominion University (ODU). Attendees will begin by visiting labs at the Center for Bioelectrics. Conventional pulsed power applications in biology and medicine have a long history, going back three centuries to Galvani, Volta, and even Ben Franklin. Using the rules of plasma physics and engineering, bioelectrics applies biomedical targets with very high electric fields for very short times (nanoseconds). This is your opportunity to see this technique in action. After guided tours through these exciting labs, including a visit to their Flow Cytometry lab, the tour will conclude with a private visit to ODU's planetarium.  Immerse yourself in a journey through space and time in their breathtaking 122-seat theater. From the comfort of a plush, reclined seat you'll feel like you're flying through Earth's atmosphere to the far reaches of the universe. The cost of this tour is $55.00 and will include transportation to the ODU, tours of the labs and a private showing in the planetarium, plus a boxed lunch. Space is extremely limited, so check at the registration desk upon your arrival for availability.