Marietta Wheaton Saunders, Managing Director of SIVB from 1993 – 2023, affected each and every one of us deeply. She was the voice, face, and heart of SIVB for the last 31 years and the person you went to with questions or concerns. While in the last issue of the In Vitro Report, we shared the sad news of her passing and provided an overview of her career, this issue addresses her loss on a personal level though our memories of her.
In discussing her loss, one member shared this quote from author Leo Buscaglia:
"I know for certain that we never lose the people we love, even to death. They continue to participate in every act, thought and decision we make. Their love leaves an indelible imprint in our memories. We find comfort in knowing that our lives have been enriched by having shared their love.
Below are stories, pictures, and memories of Marietta as shared by you, our members. We hope you enjoy these memories and can share some of your own with your colleagues. In this way, Marietta can live on through us as we continue to support and guide the SIVB into the future.
---
Best World Congress ever. I was World Congress Chair and Marietta was instrumental, professional, and excelled in helping me pull all the parts and pieces together.  Not a small feat that entailed managing details for Distinguished Plenary Speaker: Dr Stanley Prusiner; Distinguished Speaker: Dr Peter Raven; 3 Japanese tissue culture societies; travel details for scientists from 30 countries; and of course, all the supporting vendor and funding.
— Sandra Schneider
Marietta helped me a lot to fulfill the dream of participating in the SIVB in the last year. I would like to share this memory.
— Aparecida Leonir da Silva
It was saddening to hear of her passing, as she and I joined the TCA in the same year, 1992. However, the difference was that I joined as a graduate student from Bochum University, Germany, while she took a job. Over the years, we worked closely together, particularly in the Flow cytometer workshop that I brought to SIVB several years ago, and with the help of Marietta, we were able to continue it until this year. I will try to get the story on that but may not have pictures with her.
Last year, as I was waiting for my Uber ride from the San Diego venue, the last person I talked to was Marietta and her husband hand-in-hand. We spoke for a while and departed, saying, "Seeing you next year at Norfolk." However, little did I know then that it was our farewell forever, and I will carry that memory for ever.
— J Pon Samuel
Hello SIVB Family, and thanks for the opportunity to say a few words about Marietta, our Giant SIVB leader.
I met Marietta at the 1995 SIVB meeting in Denver Colorado with my mother and my daughter as a young faculty from Tuskegee University. Her smile, her poise, and patience were a welcome breadth that warmed my heart and truly drew me to the society year after year. I knew I had a supportive friend while trying to network within this multi-disciplinary scientific society. Marietta's seamless leadership within this diversity of knowledge is one that I emulate in my life. Her organization skills made the yearly SIVB gathering a success in fellowship, learning and oftentimes very fun, that we can all attest to. The love we, SIVB, have for you will forever be engraved in our hearts, just like you flew to heaven loving us, your SIVB family and Community. Peaceful Rest my Dear and say Hi to my Dear Mother who preceded you few days before.
— Marceline Egnin.
I first met Marietta at the Tissue Culture Association (TCA) meeting in 1992 at the Town and Country Conference Center in San Diego.  I remember her as someone that was focused on the job as the newly appointed Managing Director and will always remember her determination and confidence which I could see in her eyes.  I have attended every TCA/SIVB meeting under Marietta's watch and remember last seeing her in 2022, at the Town and Country Conference Center in San Diego.  My final memory of her was at the end of the meeting where we saw each other and smiled as we passed in opposite directions.  This memory is now locked down in my mind and represents coming "Full Circle" over the past 30 years, with San Diego being the key location.
— David Songstad
I met Marietta in the 1980s when I was a junior scientist at ATCC.  At our first meetings she was warm and welcoming; and as I grew to know her, I became impressed with her grace and kindness, not only to me but to all members of the SIVB society.  She was the consummate professional in everything she did. There was a calming presence about her that made me feel at ease; her smile, and laughter melted my heart!  I will always be grateful to Marietta for the kindness and compassion she showed me as she welcomed me into the Society.
— Yvonne Reid
Marietta was my soul sister.  We used to joke about being brother & sister since we had the same last names back in the day when Marietta was an Ellis.  She was one of those people who was compassionate, caring, kind, strong, diplomatic and just an all-around nice person.  I have one memory that illustrates for me all these extraordinary qualities in Marietta.  I do not remember the exact date, but it had to be in the early 2000's when I was on the board of SIVB and the society was hurting financially.  The hurt was so bad that we were having discussions on how to dissolve SIVB.  Certain factions on the board were vehemently blaming Marietta for the situation and calling for her replacement.  There were times when Marietta was asked to leave the room, but for the most part she had to sit there and listen to all the dirt being slung her way.  It had to be very hard but Marietta maintained stoic and strong responding to all the inquires and attacks as one would expect of a good statesperson.  She then showed her amazing leadership and organizational skills in presenting to the board, after many slanderous meetings calling for her removal, her proposal for starting a new meetings management company called "New Beginnings Management".   I sat listening to her in awe thinking "this is brilliant" and what an optimistic name to start SIVB moving forward!  SIVB is what it is today thanks in large part to the dedication, hard work and leadership of Marietta.  I miss her and I am sure my soul sister will continue to look down on us and smile at the legacy, SIVB, she has left behind.
— David Ellis
It was a rude shock hearing of her demise, she was a very nice and humble woman, she has a listening hears, I remembered year 2021 that I wanted to submit my abstract for conference, we encountered a lot of problems, she was never tired to provide me with a solution, she made my poster presentation of that year to be possible, honestly I admired the kind of patience she had, she was a great woman full of honor, may her soul rest in peace and  may God be with all the family she left behind.she indeed got a good memories more than what mouth can recount.
Thank you
— Oluwaseun Abidemi Ogunkalu
I had the pleasure of getting to know Marietta when I first joined the SIVB Executive Board in 1996. When I became treasurer in 2000, my interactions with her greatly increased. When I first took the position I had very little understanding of how the Society finances were being handled. Marietta was very patient and was a greater teacher and explained in as much detail as I needed to fully understand how we operated. Unfortunately, at this time the finances of the Society were not in great shape for a variety of reasons. Marietta had upbeat attitude  even with this bleak situation believing that there would be a way to turn things around. She always was able to maintain a calm demeanor no matter what was thrown at her. This was a key to the society surviving even though the Society was essentially splintering apart. While it was not an easy sell to the sections, we were able to reconfigure how funds were collected and disbursed. This turned everything around and Marietta was able to move the Society in the right direction financially and thus saved the SIVB from falling apart. One consequence of these events was Marietta forming New Beginnings which has become a very successful company.
In 2016, I was tasked with organizing the 2nd World Congress on Electroporation and Pulsed Electric Fields in Biology, Medicine, Food and Environmental Technologies. One of the first things I did was to contact Marietta and ask if New Beginnings could be involved in helping me organize the meeting. Thankfully she said yes and it made organizing so much easier and the meeting was a great success.
It is hard to imagine attending a SIVB meeting and not seeing Marietta there. I always looked forward to see her smile which was always there no matter the situation. Since the first time I met Marietta, I enjoyed interacting with her. Her passing is not just a tremendous loss to SIVB but to society as a whole. I know it will be hard for all of us to not see her.
— Richard Heller
My first memory of Marietta goes back almost 30 years ago when I was an invited speaker at SIVB. I arrived at the meeting hotel with a few self-inflicted registration issues and lots of uncertainty. I was told: "Talk to Marietta she will take care of you". I found the "meeting office' and there was Marietta very calmly putting out multiple fires for a line of people. When it was my turn, she quickly solved my problems and, although busy, she took the time to help make me feel at ease and welcomed. I'll always remember that feeling of relief. After becoming an SIVB member, I quickly came to the realization, as we all have, that Marietta WAS the foundation of SIVB, she kept everyone on track from the Board of Directors, committee chairs and those convening sessions. She was also a strong advocate of student professional development. She was the thread of continuity between the annual meetings and what occurred behind the scenes to make the Society successful. For me, she was especially helpful in solving logistical problems when organizing on-site hands-on plant tissue culture workshops and during my current term as a committee chair.
So, let's move ahead over 25 years from my first interaction with Marietta, to the 2020 SIVB Meeting.  Remember, it was virtual? I prepared two presentations that required submission as narrated PowerPoints. I attempted to narrate each one only to repeatedly receive error messages when I attempted to submit them. I then had to completely re-narrate them each time. This went on for hours in between my trying to tweak my computer settings. The SIVB Virtual Meeting time to go live was rapidly winding down! Talk about pressure! Early in the morning I called the SIVB Office and left a voicemail hoping to get a call back to learn if others were reporting submission problems. I did get a quick response by both Marietta and Michelle. Unfortunately, they weren't aware of any issues. However, I was left with parting words of encouragement. This brought back fond memories of my first encounter with Marietta.  Yes, in the end I did find my error and submitted on time (just barely).
— Mike Kane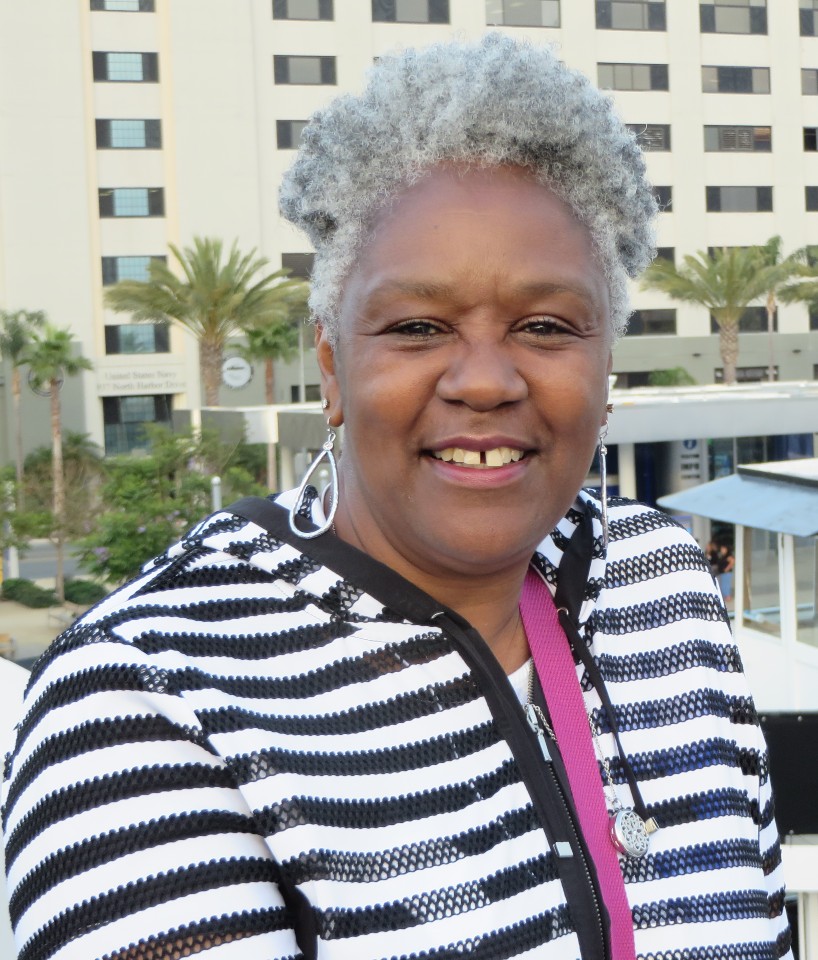 I so enjoyed getting to know Marietta over the years as I was involved in planning and attending the SIVB meetings.  Marietta was an incredible problem-solver who tirelessly worked behind the scenes to ensure everything went smoothly.  Even in the midst of the various "storms" we experienced with SIVB, she always remained levelheaded and tried to find a positive spin on events.  She knew how to encourage and direct (or re-direct!) people in helpful ways, never seeming to give up when the various challenges came her way.  I so appreciated who she was, not only what she "did" (which was always above and beyond what was expected!).  She was authentic and warm.  A real friend.  I wish we had spent more time together!  We were planning to meet this year at Myrtle Beach for dinner with a mutual friend.  Sadly, that never came to pass.
— Cindy Goodman
Marietta, for me, as a long time member of the society was the 'go-to' person for any question I had about either the society or the meetings.
She was a friendly lady, yet handled her role with the utmost professionalism. With such a large population of scientists, wanting her attention and time right way, she never dropped the ball and was prompt in answering emails.  She was so warm and polite and approachable at the conference when we had questions on a daily basis.  She would have answers for anything and everything.   It is very hard to believe that Marietta is no more. My thoughts and prayers are with her family.  She has, for sure, left a huge void, at the SIVB office!
— Shubha Subbarao
As a long time member and participant especially in reviewing student award applications, I was grateful for Marietta's intense advocacy for SIVB students. She would often request the committee to add one more student packet for review because something had gotten confused during their application process or maybe a mentor's letter was late. When my own PhD student, Matt Desrosiers, headed and helped plan the 2016 World Congress student sessions, Marietta provided crucial advice for their success. Personally, I always enjoyed brief conversation with Marietta about all kinds of things, but especially related to the Society and her unwavering support of SIVB. When my late husband was diagnosed with Alzheimer's in 2018, she was very kind and understanding about the severe constraints on my time. Her concerns and expressions of empathy were greatly appreciated. I will miss her dearly.
— Pam Weathers
Marietta– always moving with an aura of simplicity, welcome and objectivity. I met her when I first joined SIVB in 2011. All the way from Africa, I knew no one but she made me feel at home. I will not forget how she ensured I received all that is due to me as a full member. Since then, SIVB has been to me a small family. The room sharing she organized so professionally, the volunteering which was a great opportunity to network, to mention just a few. In memory of Marietta….
— Morufat O. Balogun